Tourists Paradise
Rest And Refreshments
Accommodation and dining options now abound, but this was not always the case. In December 1938, one traveller described his arrival at Port Macquarie as 'the charming watering-place was over-crowded with tourists. The usual camping ground along the waterfront could not accommodate the influx of campers, many of whom occupied the principal streets in the area'.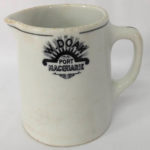 Refreshment Rooms
Milk Jug, c1930
Before Port Macquarie's modern day cafes and restaurants, there were refreshment rooms and oyster saloons. In 1911, W McGrath opened a fruit shop, restaurant and oyster saloon, offering 'a first class oyster supper for those in need of such a treat'. William Doak opened his refreshment rooms in 1928 offering meals, including oyster suppers, at any time and an assortment of pastry goods. The refreshment rooms later became the Niagara Café.
Discover more

- view detailed information on eHive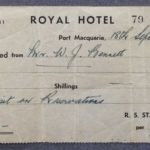 Royal Reservation
Receipt, Royal Hotel, 1937
The Royal Hotel offered premier accommodation right in town and with its river views was popular with all travellers including honeymooners. The original Royal Hotel was advertised in 1841 'The comfort and luxuries, if you visit the Hotel Royal, will render It MONTPELIER itself'.  By the early 1930s the rebuilt hotel was described as magnificent and boasted a modern sewage system, and hot and cold water service.
Discover more

- view detailed information on eHive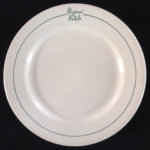 Plated Dinner
Plate, Byrnes Hotels, c1940
The Byrnes family built the Hotel Macquarie in 1938 to enhance the popularity of Port Macquarie as a tourist centre. The 40 bedroom hotel was considered luxurious and progressive, offering accommodation for motor vehicles and motorists, and a spacious dining room. Hotels were expected to offer guests three meals a day, as there were no fast food outlets and few cafes and restaurants at the time.
Discover more

- view detailed information on eHive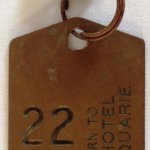 Tourist Key
Room Key, Tourist Hotel, 1960s
The Commercial Hotel was rebranded as the Tourist Hotel when it was updated in 1936. Renovations to the 42 room hotel included tiled bathrooms and lavatories, and hot and cold running water to wash basins in each room. A drawback for the hotel was its distance from the surf and bathing beaches with a guest in 1923 noting 'Have had numerous dips in the surf. Only drawback is we have to walk about 1/2 mile'.
Discover more

- view detailed information on eHive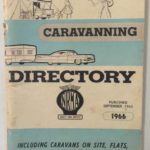 Camping Guide
NRMA Camping and Caravanning Directory, 1966
By the early 1960s camping and caravanning were increasingly popular with holiday makers, partially due to rising costs of other accommodation, and also due to improvements in camping  and caravanning equipment, and increased amenities at many camping grounds such as hot showers, electric power and septic sewerage.
Discover more

- view detailed information on eHive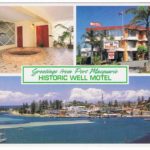 Modern Motel
Postcard, Greetings from Historic Well Motel, 1970s
Before the late 1950s tourists stayed at hotels, boarding houses and camping grounds. As more people owned motor vehicles, motoring holidays and staying in motel accommodation became popular.  Port Macquarie's first cabin style accommodation opened in the 1930s. It was decades later before the first motel, the Macquarie Motel, was built in 1957. The number of motels in Port Macquarie had reached 30 by the late 1960s.
Discover more

- view detailed information on eHive