Tourists Paradise
Getting Here
Tourist travel directly to Port Macquarie was usually by coastal steamer until 1915 when the North Coast railway was opened to nearby Wauchope. However visitors from the Northern Tablelands travelled by horse along the bush track which later became the Oxley Highway. Once the region was serviced by the North Coast railway, local car and bus operators met the train and transported visitors directly to their accommodation. Passenger air services between Sydney and Port Macquarie commenced in 1955.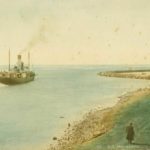 Bon Voyage
SS Macquarie leaving Port, c1914
Travellers to Port Macquarie from Sydney and the North Coast were serviced by somewhat regular coastal steamer services.  In 1900, the SS Rosedale advertised it would leave Port Macquarie 'about every four days'. The travel time between Port and Sydney was around sixteen hours. Sea travel could be unreliable or uncomfortable depending on the weather conditions and even perilous. The steamer Macquarie operated in fair and rough weather without accident or mishap, largely due to the navigation skills and seamanship of its captain, F. W Merrett.
Discover more

- view detailed information on eHive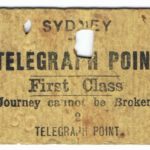 On the Rails
Rail Ticket, 1917
Before the North Coast railway, one of the main deterrents to attracting more tourists to Port Macquarie was the sea voyage. A newspaper article in 1912 advocating for the railway reported 'It is well known that many people, and especially ladies, will not brave a sea voyage under any circumstances; but if sure and comfortable railway travelling were provided, there are hundreds of families in Sydney who would be delighted to visit a restful and charming place like Port Macquarie'.
Discover more

- view detailed information on eHive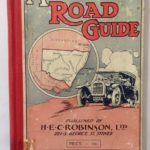 Road Wise
NSW Motorists' Road Guide, 1927
With the increased popularity of the automobile in the 1920s, a road guide with up to date maps was essential for road touring. The Royal Hotel offered a large motor shed for the convenience of motoring tourists and motor garages were established to provide car repairs, parts and accessories.  Visitors without motor vehicles could hire one of several local motor services to convey them to any part of the district at any time of day or night.
Discover more

- view detailed information on eHive
Coach Comfort
Information Book, 1953
Local coach and bus services were important to servicing Port Macquarie's growing number of tourists. Bus and coach operators, of which there were several, met the train at Wauchope and provided public transport within Port Macquarie including regular services to and from Flynn's Beach, Shelly Beach and Tacking Point Lighthouse.  Pioneer tour buses also travelled up and down the North Coast Highway bringing tourists through and visitors to Port Macquarie.
Discover more

- view detailed information on eHive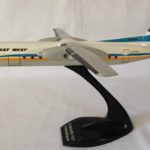 Flying High
Model, Fokker F27 Friendship Airliner, 1950s
East-West Airlines operated commercial passenger flights from Port Macquarie Aerodrome which opened in 1955. The first flight from Port Macquarie to Sydney was on 28 November of that year. The Sydney route was offered tri-weekly to service business travellers and tourists. The airline also offered a Saturday service between Gunnedah, Tamworth and Port Macquarie, returning Monday mornings. In 1955 the airfare for an adult between Port Macquarie and Sydney was £4/7/6. By the early 1960s there was a daily flight to and from Sydney.
Discover more

- view detailed information on eHive